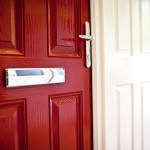 Composite doors in Greasby are worth considering as replacement doors for your house. These doors are highly regarded for their strength, durability and good looks! A composite door is made of a range of materials, instead of a singular material such as wood or upvc, that have been chosen specifically for their beneficial properties. It is typically made from a combination of materials such as PVC, wood, insulating foam and GRP (glass reinforced plastic). This combination makes a door that is very strong and secure.
For your house in Greasby, composite doors are an ideal choice. As a strong and secure door, they are suited as exterior doors. As they can withstand exposure to the elements, they will last through many winters and remain as smart looking as the day they were installed. These doors are also easy to maintain. They do not require painting, and all that is required to keep them in good working order is an annual greasing of the hinges and a regular wipe down with a damp cloth.
If you are interested and would like to know more about composite doors in Greasby, be sure to contact Doorstore. You could visit their Birkenhead branch or your could make use of their handy online composite door designer. Just a click of the button and you can design the composite door that will match your house perfectly. They are a family run business and have been providing an excellent service to their many customers for over 20 years. Confident that their service will meet your needs, they guarantee a quality personalised service from the moment you order to the day your composite door is installed. Speak to their helpful and friendly team about a no obligation quote and plan for your new composite exterior doors.