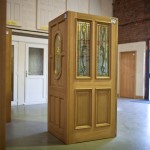 Summer is on its way and your garden will be far more enjoyable with French doors in Bebington. The benefits of French doors are that they are widely opened and made of glass. They were invented by the French in the 16th and 17th century when they discovered that the ceiling to wall door had style and the design focused on the proportion and symmetry of the room while allowing in a great deal of light. The production of decent glass at that time allowed them to make large paned doors. This elegant and beautiful contribution to architecture has been used ever since then. You can turn an entire outside wall into a raft of French doors which will allow people to admire the view of the garden and landscape.
We can offer you a splendid enhancement to your home. In Bebington, French doors make the perfect entrance to your garden through the house. If you have a patio they will allow greater freedom of movement between indoors and out. They usually come in pairs but there are designs for them to be installed in a number of pairs to allow for a larger aperture.  They allow the warmth of summer into your home along with the delightful scent of the flowers in the garden. They are generally energy efficient and extremely functional. If you have a room with little character the installation of French doors will give the room a whole new look of elegance while being eminently practical.
We can offer you stunning French doors that open out onto your patio. Contact Doorstore today and make an appointment for one of our very experienced team to visit your home for a free, no obligation quotation. We are a hard working family business with over 30 years in the business. We take great pride in our supply and installation of doors and windows. We are one of the founder members of FENSA and are Trustmark and BRFC approved. Our reliable service and trusted workmanship speak for themselves. Many of our customers refer us to friends.