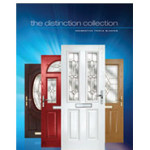 Composite doors in Wallasey make excellent front doors. A front door needs to be strong, able to withstand the elements, and look good too. A composite door ticks all these boxes. A composite door is made up from a variety of materials. These include uPVC, wood, insulating foam and glass reinforced plastic. The combination of materials result in a door that is very strong and secure. Composite doors are also known for their longevity. As they have a high resistance to weathering and will not react to seasonal changes like a singular material door such as a wooden door, they will last for many years.
For a strong, secure and attractive front door in Wallasey, composite doors are an excellent choice. A composite door is designed to look like a wooden door, with an attractive wood grain, but because of the materials used, it won't fade, discolour or require any maintenance. Maintenance of composite doors is simple, a quick wipe with a damp cloth will keep it looking like new. We have a range of composite doors on offer. In fact, you can also choose an option if you have a particular colour or design in mind for your front door. Known as Wirral's leading door and window specialist, we have traded in the area for more than 30 years. With 2 branches, 1 in Birkenhead, specialising in the manufacture and supply of quality doors. Our 2nd branch, located in Ellesmere Port, is the expert in the supply and installation of 'A' rated energy efficient UPVC and aluminium double glazing. If you are interested in a composite door for your home, speak to us for a free, no obligation quote. With our competitive prices, top rate workmanship and superb customer service, you can't go wrong with our composite doors for your home.
Composite doors in Wallasey are within reach for all homeowners. For a composite door that will change the look of your house and add to the security of the building, contact Doorstore. We are happy to guarantee a quality personalised service, from the moment you order your new composite door, to the moment it is expertly installed.